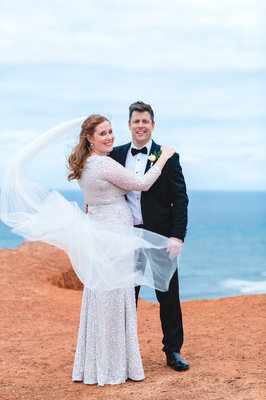 By Elissa Friday
An 18th birthday party led to a proposal in France then a wedding on the Surf Coast for Ella Ridgway and Sam Hopgood.
Words: ELISSA FRIDAY
Pictures: LOUISA JONES
WHERE THEY GREW UP
Ella grew up in New South Wales before moving to Torquay, while Sam was a lifelong resident of Clifton Springs.
"We've lived together in Torquay since 2016," Ella says.
The couple have been an item for 10 years.
WHERE THEY MET
"We met at a friend's 18th birthday party, which was at the start of year 12. I was wearing a rag-doll costume," Ella remembers.
Ella's dad dropped her off at the party before Sam arrived and spotted her.
The two were introduced and "progressively" got to know each other at a series of subsequent 18ths, Ella says.
"We just clicked and have been inseparable ever since."
THE FIRST DATE
"We went to an afternoon Sunday movie together," Ella tells.
The couple watched Angels and Demons, with Ella describing the movie as "just a chance to sit in a dark room and hold hands".
"The date was going really well and Sam asked me if I would come to meet his family that day for dinner. I did and it all went well."
THE PROPOSAL
"It was definitely one of my most favourite memories," Ella smiles.
The memory began when Sam booked the pair flights to Paris and Ireland around Ella's 25th birthday.
"Lots of people had remarked that he was going to propose, so it was much anticipated but after a week still nothing had happened," she says.
"Then we were in the elevator I saw a bar-cart used for deliveries to the hotel rooms with a note on it that said 'Marriage proposal'.
"I realised that it was for us but I wasn't supposed to see it."
Later, in a beautiful Versailles garden, Sam dropped to one knee and finally proposed.
THE ENGAGEMENT
The couple was betrothed for two years, which gave them ample time to save money and plan their wedding.
"We chose a Saturday, November 24, which was the same day that we got engaged," Ella says.
THE RING
Sam picked up the ring from a jeweller in Melbourne the day they flew to Europe.
"He wore two pairs of jocks to hide it well," Ella laughs.
She describes the rose gold solitaire ring as "simple and classic"
"It's probably not something I would have chosen for myself but I'm so glad he picked it.
"I think he did a better job than I would have for myself."
The couple also returned to the same jeweller for Sam's wedding ring.
"He chose a 14-carat rose gold band, and it really complements mine," Ella says.
WEDDING PLANNING
The big gap between engagement and wedding day was handy for coordinating guests, with Sam's family local but many of Ella's interstate.
To make things easier, the couple chose the RACV's Torquay resort as the venue.
It was all part of Ella's planning motto: Simple but elegant.
"My sister and best friend were really helpful but Sam and I did the bulk of what was important to us," she says.
The couple managed to balance their "big-picture" for the wedding with a sensible budget, which went right down to the choice of menu items.
"We chose foods that we knew our guests would like to help reduce wastage," Ella says.
HENS AND BUCKS
"My sister, best friend and my mum threw a Versailles garden party at mum's house in Jan Juc to celebrate our engagement," Ella says.
"We even had a jumping castle to represent the palace.".
All the girls in both families attended, along with Ella's close friends. The 25 guests were pampered with the visiting services of Hilary Holmes Makeup, which also looked after the bridal party's wedding day requirements.
"It was a really lovely experience," Ella says.
Sam's groomsmen organised a bus for 15 to Yea Racing Club where they had bought naming rights to one of the day's races, with Sam making the presentation to the winner.
THE DRESS
Ella initially chose a dress off the rack when visiting a Pakington Street boutique with her mum, sister, and aunt Bree.
"At the time I didn't feel like I was missing out on anything by not getting a traditional wedding dress," she says.
"Bree was very unwell, so it was so very special to have her involved in our wedding because she sadly passed away about a month before our wedding," Ella explains.
Eventually Ella had second-thoughts about her choice of a non-traditional dress.
The uncertainty led Ella and her sister to Armadale, where the bridge-to-be found a perfectly fitting dress with a more-traditional design.
"I think I was fighting being a traditional bride," she says.
"My sister bought me the new dress and I ended up selling the first one, which was right decision and it was an enjoyable experience."
BRIDESMAIDS AND GROOMSMEN
"My sister, Rose, was my maid of honour, my best friend Alex was my bridesmaid, and I had my little brother, Anton, as page boy," Ella says.
She granted her bridesmaids free reign to choose something they felt comfortable wearing, so each chose differently.
Sam's groomsmen were best friends Nathan, Rob and Tom, all ex-high school mates.
"They all chose tuxedos," Ella says.
"Another high school friend was working in the store where they got the tuxes, so it was nice for them all to catch up."
THE CEREMONY
Celebrant Georgia Mills officiated on the big day, which went without hitch.
"As far as the wedding goes, I had more compliments about the ceremony and the vows than anything else. It went really well," Ella says.
The ceremony was held amid the "lovely lighting" of the resort's foyer, she says, with Frank Ocean crooning his version of Moon River as Ella and Sam walked up the aisle.
PHOTOGRAPHY
The couple chose photographer Louisa Jones, based on previous experience with her.
"She makes us feel comfortable," Ella says.
"We found a nice location for photos along the track, and then the rest of the family photos were done at various locations around the resort."
The photos were taken before the ceremony so Ella and Sam could mingle with family immediately afterward, Ella says.
"The only hiccup was when my veil flew off but luckily it blew inland and dropped into a scrub area. My sister luckily rescued it for me," Ella laughs.
FLOWERS
"Our flowers were by Brit Hough's company called Miss Petal and Co, so we picked someone we knew," Ella says.
"I kept it green and coastal, with tropical foliage and whatever flowers were in season."
The wedding wreath was a "big feature", with Ella's best friend, Alex, donating the wreath's inner-structure after previously having it customised for her own wedding.
"We both had our own take on how to decorate it," Ella says.
Ella placed the wreath on the bridal table for maximum effect.
THE RECEPTION
The ceremony and reception were both at the same venue.
"The wedding coordinator helped us to find a layout we liked," Ella says.
"The coordinator also designed all the cards, welcome signs and invitations, and we gave everyone a chocolate with their place cards."
The couple's traditional table allowed lots of interaction with all the guests, while a DJ provided the entertainment.
THE CAKE
The couple chose to have caneles, a French pastry, instead of a wedding cake.
As a special treat, Sam's dad made them for each guest on the morning of the wedding.
"We both really love them," Ella explains.
"They were flavoured with rum and vanilla, with a custard centre and a crunchy caramelised crust on the outside."