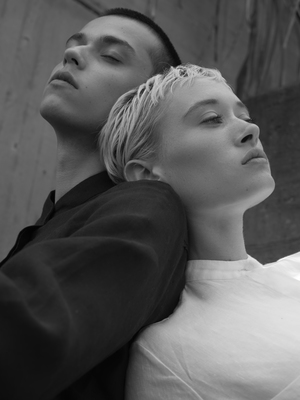 Looking good should mean feeling good, too, but ethical considerations can dampen the joy of a new outfit. Fortunately, as ELISSA FRIDAY discovers, one local woman is mastering the cycle of sustainable fashion.
Herne Hill's Courtney Holm has loved arts and crafts for as long as she can remember.
"I'd get on the little sewing machine as a kid and pretend to sew with my mum," she remembers.
After finishing high school Courtney decided to follow her creative heart, enrolling in fashion design at University of Technology Sydney. After six years of studying while working to make ends meet, she graduated with a major in menswear then took it a step further as an honours year project.
"The approach to how you design menswear really appealed to me," she says.
Courtney launched her first menswear brand in 2013.
"It was more of a hobby than a proper business," she explains.
"After finishing university I'd moved to Melbourne and become a Pilates instructor.
"I met my husband and decided to stay put. We really loved Melbourne and the people there."
During a break from work Courtney envisioned taking her business in a new direction, toward sustainable fashion.
Now 33, she's delivering on her vision with label A.BCH, an acronym for Article By Courtney Holm, which she launched in 2017.
"My dream is be able to prove to other business that there is a viable way.
"It is possible to run a fashion business whilst still achieving goals and dreams, but just not at the cost of the planet."
Courtney says acknowledging the "reality of wastage" in the fashion industry was an eye-opener for her that serves as inspiration for A.BCH.
"When you're cutting a garment 15 per cent of the fabric used gets disposed of and thrown in the bin" she explains.
"There was no recycling of textiles, and that became an issue for me. Recycling is something that has to happen at the design stage."
The importance of achieving a sustainable clothing industry really hit home when Courtney watched The True Cost, a documentary on the suffering of Third World workers supplying global fashion houses.
Suddenly, her career wasn't just about "design and just making more stuff" for Courtney. She began delving into the supply and manufacturing side of the fashion industry.
"It became my passion to make it all easy for the customer to understand the supply chain," Courtney says.
"A.BCH is circular design. It's a loop from the design phase, so nothing gets wasted."
Courtney says garments must be designed in separate biological and technical cycles.
The biological cycle involves sourcing materials that decompose, which means trying to avoid certain products so full of chemicals they don't break down in the environment. The technical cycle involves the use of materials that can be recycled, such as plastic.
"In the design phase we look at creating things that are made to last," Courtney explains.
"We look at what works aesthetically, and what will work from the circular design aspect. The garments need to fit into the biological cycle."
Items that fail the cycle include polyester threads because, as Courtney describes, they're a "nightmare" for recycling and composting.
Buttons, interlining, dyes, finishes, enzymes and a range of other materials and items used in the manufacturing process also have to achieve a circular cycle.
Courtney uses threads made from organic cotton and Tencel, a product of wood pulp. She rates the strength of both threads as competitive with polyester.
A "whole-take-back program" for customers extends the cycle for A.BCH products, Courtney says.
"For every 500 grams of textile that is given back to us, we give them a credit," she explains.
"Then the recycling process happens with that material. It's chopped up and the fibre's blended with new fibre then re-spun into new yarn.
"That's the simple mechanical way of doing it. We're also looking at future innovations in tuning the garment into a new fibre.
"Every creation at A.BCH is developed with intent, from responsibly sourced, circular raw materials and ethical supply chains through to a focus on the user phase and, finally, the garment's afterlife."