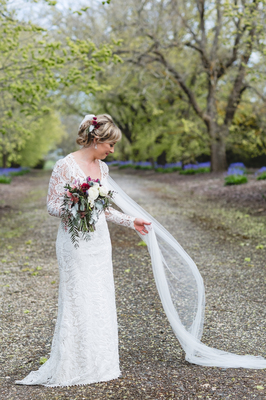 Words: Elissa Friday Pictures: Louisa Jones
They couldn't remember each other from grade three but a night at the Sphinx Hotel was all it took to unite hometown Lara pair Lara's Melissa Rogers and Callum Lewis.
WHERE THEY MET
Melissa and Callum both grew up in Lara.
"We were introduced through a couple we knew," Melissa says.
"We were at the Sphinx in Geelong on a karaoke night when we were 19 years old and I was there with my girlfriends. Callum came to the Sphinx with a friend who was dating my friend."
The pair began chatting before later connecting through Facebook.
They've been together ever since.
"And our friends are also now married, and with three little boys," Melissa says.
THE FIRST DATE
"We went out for ice-cream on our first date and discovered we actually went to primary school together in grade three," Melissa says.
"We have the school photos to prove it. However, we don't remember each other at all.
"It was really nice to be able to meet again with a fresh perspective".
THE PROPOSAL
Melissa was surprised when Callum popped the question while the couple was away on a holiday in Far North Queensland.
They were initially with Callum's family on Hamilton Island before the couple returned to the mainland and hired a car.
They eventually found themselves on Port Douglas's idyllic Four Mile Beach.
"I didn't know Cal had the ring with him," Melissa says.
"He waited to propose when no one was around on Four Mile Beach. He got down on one knee and I pretty much said, 'Yes', straight away."
THE ENGAGEMENT
The couple were engaged in 2016 and married 18 months later.
"We had our engagement party quite soon, on the 16th of July 2016", Melissa remembers.
"I'd been waiting nine years, so I was pretty ready to get into it all."
THE RING
Melissa was bereft of ideas for her ring, so Callum visited a number of jewellers before eventually choosing a design from Michel Hill.
"I probably was looking for something simpler but he felt that my ring needed more diamonds on it," Melissa laughs.
"It took me a while get used to it because it really shines in the lights.
"It was definitely a big surprise when I saw it. I was thinking, 'I can't believe I get to wear this'."
WEDDING PLANNING
The planning was "a little bit more stressful" than Melissa expected.
She chose to have a stylist, who also helped with ideas and colour schemes for the big day.
"The venue's wedding coordinator helped us co-ordinate the day, including making sure things were in place for my dad who needed special assistance," Melissa says.
She also put wedding theme ideas on a Pinterest board.
"However, I'd already figured my scheme beforehand, having done lots of research."
Wanting a casual theme, she chose maroon "running through everything".
"I even wore maroon coloured shoes that I'd bought years ago and had re-soled," Melissa says.
HENS AND BUCKS
Melissa's sister organised her hens' party.
"All I wanted to do was be pampered in some way, so we went to a day spa," she says.
The party first enjoyed massages followed by a champagne breakfast and a make-up trial at Melissa's house.
"We had the bridal shower at Winters Cafe where we enjoyed afternoon tea, played games and enjoyed amazing food," she says.
"My mum and mother-in-law came to the spa, so altogether there was around 15 of us. Later about eight of us went to CQ bar at the pier for cocktails and dinner".
Callum's best friend organised a bucks' party at a Bavarian restaurant in Melbourne.
"He had around 15 people, too," Melissa says.
"I'm not sure exactly what time they came home but I know they enjoyed themselves and got up to a bit of mischief."
THE DRESS
Almost immediately after their engagement Melissa and Callum visited her sister and mother on the Gold Coast, where the dress-hunt began.
"One of the first things we planned was to try on dresses alongside my sister and my mum because of my sister living on the Gold Coast. She couldn't be involved in the planning as much as she wanted," Melissa explains.
"It's not that normal to try dresses on that quickly. The dress was one of the first decisions we made for the wedding.
"My mum and I went to four bridal shops and had the appointments all in one day. I probably tried on four or five dresses in each shop".
Melissa found the dress she wanted, made to measure in the last shop she visited.
"It was on a rack at the front door and I didn't really know if it was going to suit me but I wanted to try it on," she remembers.
"Mum wanted us to buy it there and then, so I put a deposit down on the dress immediately.
"Callum wasn't overly impressed as we hadn't discussed out budget. I suppose I learned very early on to run the big expenses past him."
BRIDESMAIDS AND GROOMSMEN
The couple had a "fairly large bridal party", with five bridesmaids and groomsmen each.
"My sister was my maid of honour and the others were four close, life-long friends.
"We're very blessed to have that many friends in our bridal party.
"Callum had all his really good mates, including his best man, who he's known for about a decade.
The bridesmaids' dresses came from different shops, "so everyone wore an individual colour", Melissa says.
The groomsmen's outfits were from Eddy Alias.
"It was nice everything was sourced locally," Melissa says.
THE CEREMONY
Historic pastoral property Narmbool, at Elaine, northwest of Geelong, was the perfect venue for Melissa and Callum.
"Before it started I arranged to meet my dad, because he wasn't going to be walking down the aisle," Melissa explains.
"It was so he could see me in the dress, and I had a little wedding gift of motorcycle cufflinks for him."
"The photographer captured a special moment when I gave them to him.
"As soon as we were married we went into the garden where we shared our first ice-cream as husband and wife, like we did on our first date and for our general love of ice-cream – choc-mint is Callum's favourite and mine is lemon sorbet.
PHOTOGRAPHY
"We met Louisa Jones on site, and it was a really hard decision where to take photos because the property has so many beautiful spots," Melissa says.
But the historic homestead and its gardens provided ideal backdrops.
"It's an old sheep farm and there's a bluestone homestead where we had our ceremony," Melissa says.
FLOWERS
Melissa showed her florist some favourite photos from Pinterest to to choose the right flowers.
"She did a fantastic job and totally nailed it," Melissa says.
The couple chose blooms with maroon colour tones and soft pastel blues.
THE RECEPTION
Narmbool also hosted the reception, which featured decorations of rustic leaves and posy jars full of the same flowers used in the bouquets.
"It was pretty relaxed and again we had the same maroon tones throughout," Melissa says.
"Narmbool also catered. We chose duck and chicken meals, with alternative entrees and wedding cake for dessert."
THE CAKE
Geelong West's Loveit Cakes provided the cake.
"The owner's my sister's future mother in-law, so the cake was very special," Melissa .
"They make incredible cakes and they were also invited to the wedding.
"We had a four-tier white choc and caramel cake with a white icing and flowers.
"It was very delicious".