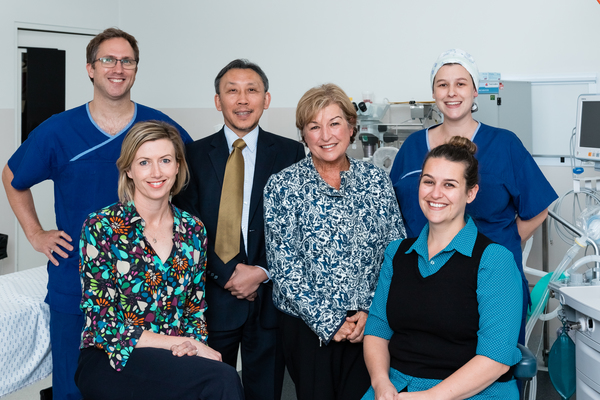 Specialist Surgicentre is Geelong's only free-standing, fully-licensed-and-accredited day hospital offering a variety of surgical services.
The facility is the realisation of founder Martin Ching's 2006 vision for his own stand-alone day hospital.
The central Geelong hospital's convenient location is ideal for patients and their treating doctors.
Operating as a registered and accredited day surgery, Specialist Surgicentre primarily caters for oral and maxillofacial surgery services with Mr Ching.
Both of his Geelong and Docklands hospitals are registered with the Department of Health and Human Services to perform acute surgical services.
Specialist Surgicentre recently expanded its services in a partnership with Monash IVF, which has been established in Geelong for 30 years.
"In July we're really thrilled to celebrate our 12-month affiliation with the Specialist Surgicentre," says Monash IVF fertility specialist Dr Prue Johnstone.
"As the pioneers of IVF and scientific leaders, Monash IVF has over 40 years' experience and over 35,000 babies across Australia.
"Thanks to the Surgicentre we're providing Geelong with access to world-leading fertility treatments and services in their home town."
Monash IVF commenced its first Oocyte pick-up list at the Surgicentre in June 2018. On the first list, one patient's single transferred embryo produced identical twins.
"As many as one in six couples will experience some difficulty falling pregnant," Dr Johnstone advises.
"If you're having troubles, we're here in Geelong to help you add to or complete your family.
Both the Geelong and Docklands Surgicentres has achieved quality excellence in their risk management system with ISO International Standards Organisation.
The range of surgical specialities offered at the the Surgicentre include foot and ankle, plastic and cosmetic, oral maxillofacial and general dental and most recently IVF services. Gynaecology services to commence soon.
Clinical operations officer Chris Guidotti has run the hospital since 2009.
"I'm engaged as a consultant and look after compliance, which is the licencing and accreditation of the facility," she explains.
"Mr Martin Ching's clinic is situated on the same site of the hospital. However, the hospital is a completely separate business and is managed by myself and the executive team."
Chris is also president of Day Surgery Nurses Group in Victoria and nationally.
"And I've just been invited to join Australian College of Perioperative ACORNurses, on their working party for standards," she says.
Surgicentre is supported by a robust medical advisory committee, and all visiting medical officers and dentists must be credentialed to work at the facility.
Staff employed under the guidance of a nursing and operations management director, with all team members experienced and qualified in their specialties.
Nurse unit manager Renee Trotter previously worked in Geelong's public health sector, so she has brought a wealth of clinical knowledge to Specialist Surgicentre. Under the guidance of Chris Guidotti, she has undertaken all the quality roles required for accreditation.
Patients have generally expressed high levels of satisfaction with the transition from the former Geelong Private Hospital, which closed in 2018, to Specialist Surgicentre.
The day hospital offers exceptional services from a group of friendly staff in a private, discrete atmosphere.
Specialist Surgicentre has become a benchmark among networking groups for small and day hospitals around Australia.
Specialist Surgicentre is at 200 Malop Street, phone 1300 654 456.