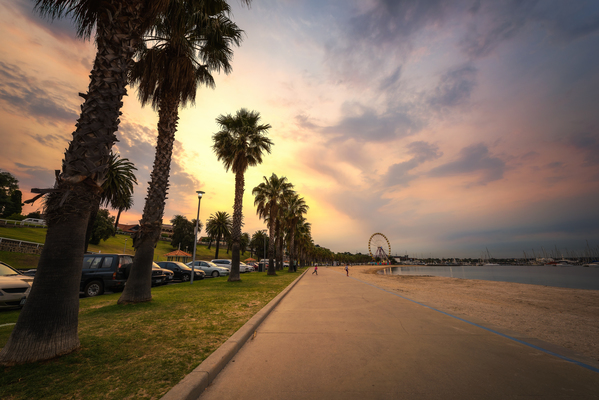 By Luke Voogt
More than a quarter-century after kick-starting the transformation of Geelong's waterfront, former premier Jeff Kennett returns to enjoy the stunning views with LUKE VOOGT
On his regular Geelong visits a Victorian minister Jeff Kennett saw a city facing "inward" rather than towards its greatest asset.
"Most cities (that) have water use it as a major feature. Geelong just allowed it to exist," he says.
"(The waterfront) was a bit of a rust bucket – it was there by name but it wasn't humming.
"I then started taking a much greater interest in Geelong and started working out what we could do to revitalise it."
As Victorian Premier in the early '90s Jeff established a stand-alone authority to pour millions into redeveloping the waterfront and attract private investment.
"It meant redesigning the whole front of the land mass to the bay," he says.
He employed former Ford managing director, the late Bill Dix, to lead the authority attracting cafes, restaurants, hotels and institutions to the waterfront.
"Leaders are there to create the environment; they employ good people to fill in the colours," he says.
"That's where Bill was so terribly good. With him we had a very proactive focus on what we were trying to do."
Deakin University set up a modern campus on the waterfront, while local businesses flourished as they invested in redeveloping it.
Re-landscaped parklands and art, like Jan Mitchell's iconic Baywalk Bollards, transformed the precinct.
Sitting on a balcony watching people walk, jog and play in waterfront parklands, Jeff reflects on how far the precinct has come.
"The waterfront is, in one sense, complete because it's a lovely place to be," he says.
"I like that people can still put their fishing lines in the little holes to fish."
Roger Grant, then director of Geelong's tourism board, says Jeff's waterfront authority provided the "framework" for businesses to invest.
"They had the freedom and the capacity to engage with the private sector and really make things happen quickly."
Roger, who recently retired the post after 26 years, is excited about Geelong's planned conference centre and a potential mineral spa project at Eastern Beach.
"I see (the waterfront) as this beautiful canvas where we're just missing bits," he says.
"I think we've moved beyond 'it can't happen in Geelong'. The vibe now is 'it should happen in Geelong'."
One of those making things happen on the thriving waterfront is Geelong Segway operator Tim Carr.
Many of his Melbourne clients initially plan to bypass Geelong for the Great Ocean Road before discovering his tours online, he says.
"They are blown away with how beautiful our waterfront is and it's an absolute pleasure to take tours there. It gives me a buzz to hear comments from people about how amazing it is."
The waterfront's wide clean pathways and open spaces make Segway tours possible, Tim says.
On most tours the smells of a colourful plethora of multicultural families cooking lunch reaches the Segway riders' noses, he says.
"It's bloody brilliant, I love it."