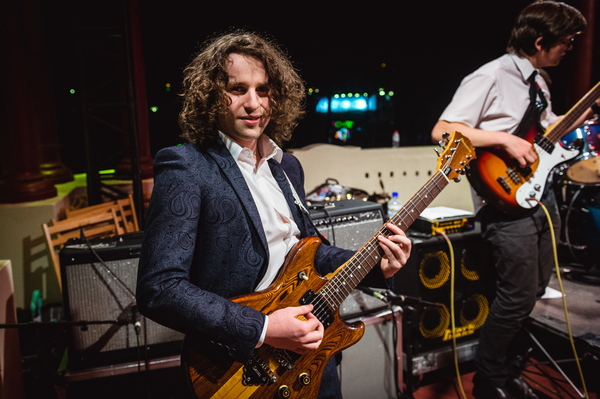 WORDS: Luke Voogt PHOTOS: Patrick Callow
After playing in front of hundreds onstage last year Joey Donald still reckons busking is by far the toughest gig.
"It's something all musicians should do," the 17-year-old East Geelong guitarist and singer says.
"It's the hardest audience you'll ever have because they're not coming to see you. But if they like you they might pay you or stay and watch."
After a "solid year" busking, a friend helped Joey score a gig playing the riffs of legendary guitarist Brian May in a local stage production of We Will Rock You.
"I'm a big Queen fan so he thought I'd enjoy it," he says.
"Brian May essentially taught me guitar. I learnt a lot of techniques watching videos of him play at Wembley and Live Aid."
Joey admits being nervous playing his idol's songs at first but it all "came naturally" onstage.
"I grew out my hair, curled it up a bit and made sure I did those solos as much justice as I could. It's a bucket list item that's been ticked off."
He hopes to perform in other local plays between busking, teaching guitar and playing in a Crowded House-Split Ends cover band.
"I'd love to do Rock of Ages," he says.
"There's such a magic in doing a show you enjoy."
Joey has played guitar for 10 years and is currently studying sound production to make a career out of music.
"Sound production can be my day job and music could be my hobby – if my music went well it could be the other way around."
He also hopes to return to his "main busking spot" in Highton after making the finals of Geelong's Best Busker recently.
"It's not quite as confronting as Malop St where you've got 80 people crossing the road. Not that I've found it that hard but friends who busk tell me Malop St is difficult."