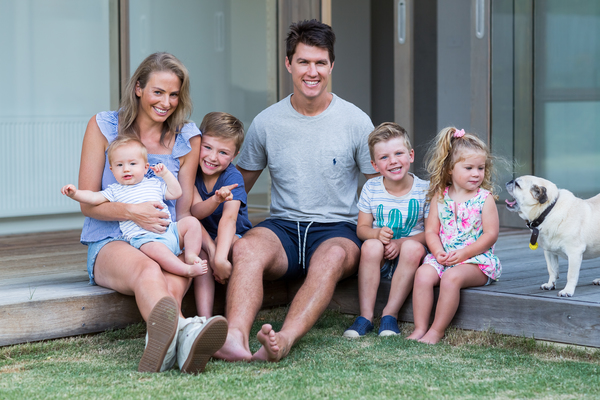 By Elissa Friday
He won three premierships with the Cats. She, at first, was just in it for the "hot chips". ELISSA FRIDAY meets picture-perfect couple Andrew and Georgia Mackie, happily raising their young family away from the spotlight of the AFL.
Pictures: Louisa Jones
Andrew, you're well-known as a triple premiership player with the Cats, but what was your journey to professional footy?
I always loved sport in general, and certainly did as a youngster. I was an outdoorsy kid.
I was playing school football in Adelaide and we had a pretty good team. The AFL recruiters happened to be watching, and Geelong recruiter Stephen Wells must have liked what he saw because I was drafted at the end of the year, in 2002.
I've been here in Geelong ever since.
And your history with the Cats is still ongoing, yes?
I played with Geelong for 15 years before retiring in 2017 but now I work in the Cats' football department.
Having come from playing and now being exposed to other parts of the football club, I'm always trying to influence what we are as a footy club from another angle. I enjoy learning new things and trying to influence in a positive way.
You were known for being a bit chirpy on the field, Andrew. Are there any sledges you're particularly proud of, or any you'd like to share?
Well, I wouldn't say, 'proud of', but I did target a couple of guys named Mathew Lloyd and Luke Darcy and got into them a couple of times. Then they both went into the media and worked for a TV network, which might be how I got a bit of a reputation.
It wasn't any personal attacks. I've always had fun and still believe there's room for that.
Who was your toughest opponent?
When I was younger a guy called James Clement from Collingwood and then Chad Cornes from Port Adelaide.
I've never been the strongest sort of guy, and they were pretty well-built. They were strong players who had a strong mark and could play any position.
Do you have a trophy room to showcase your premiership wins?
No, I don't. There's nothing on show about the footy at home.
I'm not opposed to it, though. I've just never thought of putting anything on display yet. The memories and great times are still very fresh in my mind, though.
How did you deal with all that comes with being an AFL player?
I loved every minute of it, whatever came because of it, good or bad.
Sometimes you have to make sacrifices and decisions, but I've always had at front of mind, trying to better myself to ultimately make the team better.
What's life like now after your playing days with the Cats?
I'm really enjoying my family life and the joy that having children brings.
Every day there's something new or different going on. I'm enjoying the hectic-ness of it all.
Do any of the kids plan to follow in dad's footsteps?
They enjoy getting outside and playing footy. There are just some signs they enjoy the game.
We'll support them in whatever journey they choose to take.
What do you enjoy doing in your spare time?
I enjoy chatting with my mates, having a coffee, and taking the kids for milkshakes.
We always keep pretty busy but I love being at home. We both love pottering around the house, and we're lucky enough to have a house that's very kid friendly.
Georgia looks after the inside of the house and I look after the outside.
Is there anything that would surprise people to know about you?
I love to read the AFR (Australian Financial review). I like to keep an eye on what's going on in the business world. I've always enjoyed doing that.
Georgia, where did you and Andrew meet?
Andrew lived around the corner form me. He'd come to Geelong from Adelaide, and was living with a host family.
We met briefly due to living so close by but we properly met each other at the Geelong Cup. I was at the cup with some school friends, and it all took off between us from there.
How long has it been now since you two lovely people tied the knot?
I was 18 years old and Andrew was 20 when first we started dating. We got engaged nine years ago now, and have been married for eight.
We got married in Melbourne in the botanical gardens and had our reception at Crown with about 160 guests.
Tell us about your family, and whether you plan to further expand the Mackies?
I have an older sister and an older brother, and Andrew has two older brothers. We're actually both the youngest of our siblings.
With our four kids, Freddys six and has just started prep school, Louie's four and is at kinder, Lindy's two, and Banjo's seven months.
I think four is plenty and wouldn't have it any other way.
When did you move into your new home?
We bought it nearly six years ago and settled on the day we had Freddy.
We demolished the house, decided to start from fresh, and it took about 10 months to complete. It's is a mid-century modern house.
I worked closely with the builder, Built by Wilson, for ideas. We moved in 18 months ago and we absolutely love it.
It's a big family home and I'd be happy to stay here forever.
Were you much into footy before meeting Andrew?
Um, I did really like to watch him playing. I really cared but I don't think I've watched a game since he retired.
I don't like watching sport in general, really. Our boys watch it. They like it more as they get older.
As a child I used to watch it and would go to games with my parents. I really enjoyed going, I think for the hot chips.
Are there any pressures that go hand-in-hand with the WAG lifestyle?
Not for me, personally. I like to get dressed up and look good, but at the end of the day you do feel a tiny bit of pressure.
However I didn't feel as though I had the pressures of building a business or a brand.
Is it a bit of a clique?
When they're playing there's sense of closeness among the partners and wives because we've all got the game in common. When you have kids, timewise it can separate the group a bit because you can't do as much.
Georgia, what do you enjoy doing most in your spare time, if you have any?
I don't have much spare time at the moment, ha-ha. I used to like going shopping and doing all those sorts of things but I haven't done those things for years.
I like going out for coffee and doing yoga but now my spare time consists of taking kids to the park.
Is there anything that would surprise people to know about you?
I have really curly hair, ha-ha.