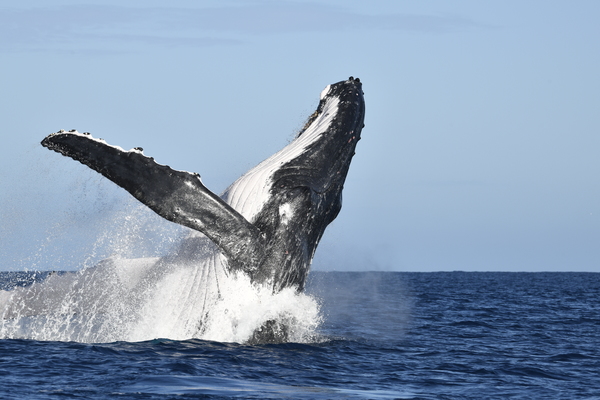 He'd mingled in Monaco, lounged in London and partied in Paris, but photographing whales in the tropical waters off Tonga was a whole new world. Geelong's DARRYN LYONS exclusively shares the experience, and his mesmerising trip images, with GC.
It was my incredible passion for photographing the natural world that drew me to Tonga and its humpback whales.
I signed up for a private six-week whale-photography trip with Matt Draper, a world-renowned underwater photography from Byron Bay who's known as The Whale Whisperer. He has a skipper living at the Vava'u island group, which is Tonga's whale nursery.
While they're in the nursey the whale calves suckle around 100 litres of mum's milk daily, putting on 100kg a week. Then when they're ready the swim with their mothers all the way to the feeding and mating grounds in Antarctica – amazing!
To prepare for the trip I did my own dive training for about six weeks. Several months before I'd had a serious shoulder operation and was worried I'd have to cancel but the swimming was actually pretty good for my healing.
I packed the latest and greatest camera kit – a Nikon 850 camera and a 16-35mm lens – and arrived in Tonga where I joined a group of three other photographers in their early 20s. They were built like fish and swam like fish, too.
We were were on the boat by 5.30am the first day, looking for spray from the whales' blowholes. We eventually found them after travelling 20 to 30km offshore.
Let's just say I was extremely apprehensive about getting in with the whales. I didn't expect to feel fear but, when you're in the middle of the ocean, it's just their enormity – they were the size of two double-decker buses.
My biggest fear was a whale breaching and landing on me with 600 tons of down-force.
I was incredibly intimidated and didn't go on the first swim because I was too nervous.
I went out on the day's second swim but felt like a bit of liability to the others.
I was trying my hardest but felt like a lead weight. Then when I was about 10 metres from the boat it turned around to take off, which gave me a panic attack and made me swim back.
It was the first of my several panic attacks that day.
It was disappointing when the skipper said, 'From a safety perspective, Mr Lyons, you're out for the day'. I understood his reasoning and complimented him on his decision.
I was still too nervous to go in the water on day two but on day three I I thought, 'If I don't take this opportunity now I'll never do it'. So I got in the water and it was the best swim of the whole trip.
Matt and I swam to within a metre of a mother whale and her calf. Mum had one eye on its baby and the other on me. It was extraordinary.
The whales emerge from the bottom of the ocean with incredible grace and power, aiming toward the sky. You could liken them to an emerging submarine in a Hollywood movie.
You feel so inconsequential, but I quickly stopped thinking about things going wrong.
It's hard to describe the way such an experience affects your life, your soul. It was so soft, tranquil and so beautiful, Even I felt like a whale whisperer.
Their eyes said it all, like they had some sort of subliminal communication. It was nothing like us.
I've heard fish chewing coral on the barrier reef but whale sounds are extremely loud, like a choir. It was beautiful.
It was an extremely spiritual experience and deeply emotional. Yes, I did cry.
And the images from the trip are some of my greatest ever. I've photographed everything overseas from war zones to catwalk models and World Cups but, as far as nature photography does, this is the best I've done.
On a trip like this, you would maybe expect to come back with one picture, and I came back with 4 or 5 quite extraordinary pictures which will be in my Sydney gallery.
I'd recommend anyone putting this trip on their bucket list, and you don't really even need to be a photographer – just the experience will stay with you the rest of your life.