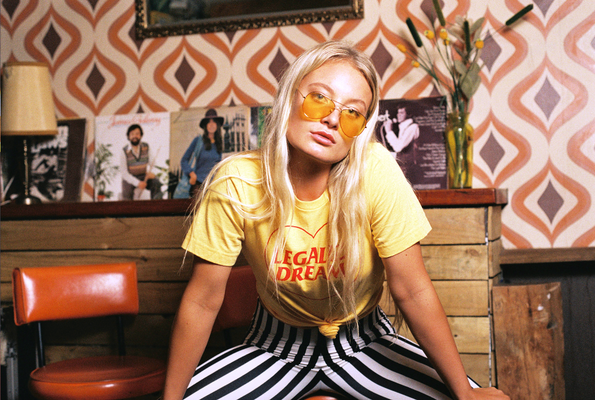 By Justin Flynn
Libby Steel is carving a name for herself in the local music scene and she has many music reviewers excited.
After winning the triple j Unearthed competition to open the 2018 Queenscliff Music Festival in November, the 23-year-old realises the huge gig could have been the big break she's been awaiting.
"I've worked really hard to get to this stage and now this feels like the next level," she says.
"It's a different calibre of event so it really opens up doors for me."
Geelong Coast caught up with the young songstress in between studio rehearsals with her band.
Libby, who hails from Cobden but is now living in Torquay, has had a number of smaller gigs, including supporting Taylor Henderson and playing at the Australian Open.
She has been dabbling in song writing and she says her music reflects her playful and youthful side.
"It's something that I've always loved doing and I still don't really think they're anything special – it's just the thoughts that come out of my head and it's made me more confident," she says.
"You just hope that people understand and appreciate it. My kind of writing is based around what I've personally experienced so it's a bit youthful and a bit playful."
Libby describes her music as "playful pop", but is reluctant to pigeon-hole herself to any specific style.
"Every song is so different," she says.
"It's hard to narrow it down to one genre. I've got one jazz track and one pop song and a bit of everything.
"I love music as a whole and I don't want to narrow myself down to one genre just because I have to. The beauty of music is you can just do what feels right."
Libby has managed to score rotations on national and international Radio.
Tracks such as Bones, Fever, People, and The End have been well received by critics.
Libby is also an accomplished model for G-star Jeans and is an ambassador for Uncle Jack watches.
Libby pauses after being asked what she enjoys doing outside of music.
It's not a long pause, but you can tell she is thinking.
She says she enjoys sports and surfing, but the conversation quickly comes back to music.
Growing up in Cobden, Libby says pursuing a career in music "wasn't exactly encouraged", but after studying a professional communications degree at RMIT, is now solely focussed on her music.
"The opportunity that Queenscliff and triple j Unearthed have given me is amazing and it opens up that new doorway," she says.
"For me this is going to be my life, this is what I love and it's taken me a long time to realise that."