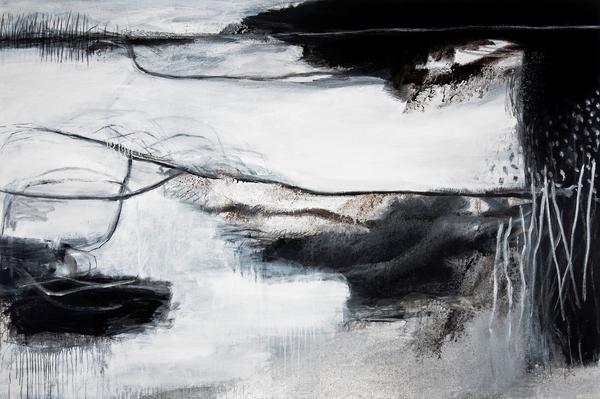 Words: Justin Flynn
An overwhelming urge to paint often wakes David Beaumont at 2am.
So he rises from bed and goes to his Queenscliff home studio where he works in the dead of night.
It's peaceful then, Beaumont says. He can hear himself think.
He travels in his mind back to some of his happy places – Lake Mungo, the Flinders Ranges, or the Little Desert – and the painting begins.
"Mungo is a really special place," he says.
Landscapes fuel his passion but Beaumont is also an accomplished portrait artist.
William Buckley's tale fascinates him. Beamont has won wide acclaim for his series on Buckley, an escaped convict who escaped death and lived with an Aboriginal community for decades.
Beaumont was working in a factory in Ballarat when he realised he could paint. That was more than 20 years ago.
"I wish I could tell you this romantic notion that I've always drawn and painted as a child but it wasn't the case," he says.
"I just started drawing instinctively. I don't know why. It was kind of like a strange reaction to the orderly nature of working in a factory.
Now nearing 59, Beaumont has enjoyed an amazing 2018.
He's been a finalist in no less than six significant Australian art prizes, including the Doug Moran National Portrait Prize. He was also a finalist in the Hadley's Landscape Prize – the world's richest for landscapes.
"I've got a head full of ideas of things I want to paint for the rest of my life," he says.
"I'm very lucky to be able to earn a living from my art.
"For people to purchase my art over many years now. I can't tell you what that feels like. It's extraordinary."
Beaumont points to one of his paintings adorning the walls and floor of his Queenscliff studio.
"That's house paint and spray enamel," he explains.
"It's just a bit of pigment and oil on a bit of wood or canvass.
"These are the things that occupy an artist's mind. How do you transform those things into something that has resonance, emotional and visual?"
Beaumont likes to be outside his comfort zone.
He's in talks with film-makers about retracing the footstep of Buckley from the Mornington Peninsula to Buckley's Cave at Point Lonsdale. Beaumont plans to undertake the entire trek on foot without food or money, relying on bartering his with sketches to get by.
He regularly escapes to Mungo or the Little Desert for days on end to paint.
"I've got a nice little spot where I can camp and work there," he says.
"The Australian landscape, there's nothing like it anywhere in the world.
"There's just a harsh honesty about it. That inspires me. It speaks to me, the Little Desert, Mungo, Flinders Ranges, Swan Bay…
"I don't go for the cliched landscape. I try to look to see what's not obvious. A lot of artists will paint The Rip, the heads, the bay, but's just a little too obvious for me.
"It speaks to me in a way that's not cliched."
Beaumont, married with two adult sons, says he's happy in Queenscliff.
"I live a good life. I do what I want to do and I'm happy.
"I have good people around me and I'm very lucky."
Beaumont encourages anyone with the painting urge to try their hand.
"If you want to paint, paint," he says.
"Nothing's stopping you. That's all there is to it."