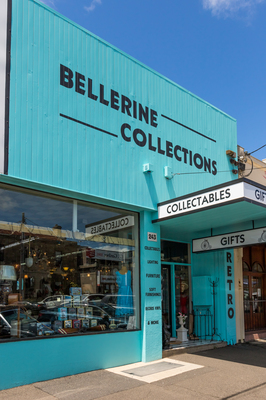 Bellerine Collections has been intriguing shoppers since recently opening near the top of the Moorabool Street hill in Geelong.
"Quirky" has emerged as a popular description of the business following its relocation from the river end of Bellerine Street.
Reviews on the store's Facebook page have been glowing.
"The shop is very well set out and changes weekly with new, interesting collections," posted a shopper who described herself as now a "regular visitor" at Bellerine Collections.
"Interesting place," posted another visitor," well-worth going for a squiz."
A third called the store "a great find", admitting she could "not resist a purchase at such a reasonable price".
Bellerine Collections stocks a selection of products, ranging from antique and retro glass and china though to quality gifts for men, women and children.
The items provide plenty of inspiration to find a talking piece for any room, even any 'man cave' in need of appropriate decor.
Interior and exterior lighting is a specialty, while browsers will also find handmade gift cards, Australian and local pottery, baby gifts, soft furnishings, mirrors, furniture and garden-ware.
Also, retro music fans will enjoy the store's selection of vinyl LPs and 45s, cassette tapes, CDs and pianola rolls.
Anyone wanting to understand the buzz about Bellerine Collections can visit the store at 243 Moorabool Street.