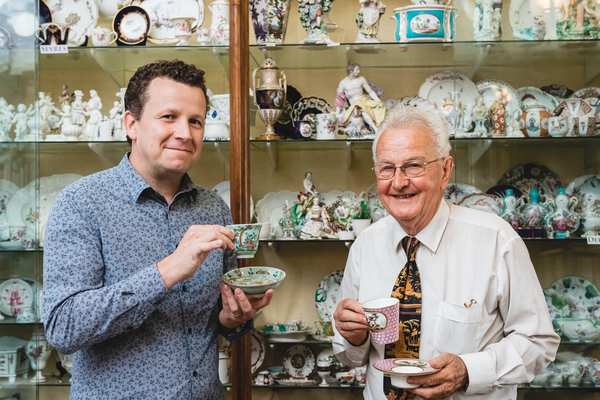 Moorabool Antique Galleries' two floors of intriguing objects range from furniture to silverware and almost everything in between.
But the business is widely renowned for Australia's largest range of antique ceramic items, along with a reference library containing more than 2000 books on ceramics.
"We have ceramics from every period and place," says owner Paul Rosenberg.
"But we're not just here to sell things. We're here to share our knowledge, too."
Moorabool Antique Galleries' regular high teas in the reference library serve guests on fine China as they discuss the ceramics on display.
"I'd hate to do a stocktake," Paul says.
"We've never counted but we must have over 10,000 pieces on show."
Moorabool Antique Galleries has become something of a family tradition, with Paul operating the business in the footsteps of his father.
"I still meet customers who bought things from him," Paul smiles.
The 60-year-old business sticks to the "proper definition" of antiques, he says.
"That means more than 100 years old, which includes the Georgian and Victorian eras.
"We have a very wide variety of goods, which mirrors the diversity of our clientele. Our stock ranges from very affordable small gifts through to major pieces that we've sold to organisations like the National Gallery of Victoria and Geelong Art Gallery, even international institutions.
"We have something for everyone."
Paul nominates his stock of "really old stuff", dating back thousands of years, as the store's point of difference.
The oldest item is an "incredibly rare" 5000-year-old pottery bowl.
"Surprisingly, it's not expensive at all," Paul explains.
"Older in age doesn't necessarily mean more-expensive."
Moorabool Antique Galleries is at 16/18 Ryrie Street, Geelong.