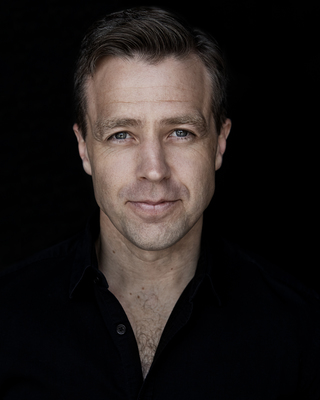 From starring on stage in London's West End to life with Mamma Mia's Natalie O'Donnell in Geelong West, Simon Gleeson speaks to LUKE VOOGT about love, acting and family.
Have you adopted Geelong as your hometown after moving in 2011?
I don't think I have a hometown. You sort of lose that as a result of going to boarding school.
Home is pretty much where the suitcase is or where I'm standing now.
But I'm certainly happy to be here. The standard of life you can give your children is so much better than in Melbourne.
We've met some wonderful people here too. And there are a lot of actors moving to Geelong now.
Why did you move to Geelong?
All of Natalie's family have been in Geelong for generations.
Her grandmother went to the same primary school as her and her great-grandmother might have too.
We were living in London before I did Les Miserables, and we got married and had our daughter there.
Later we moved to Melbourne to be closer to family but we realised we might as well have been living in London still. So we moved to Geelong.
What do you love about Geelong?
There's plenty! I love that I can get my kayak into the bay in four minutes.
I really love what they've done with the esplanade and Geelong's laneways.
They've got that great little pocket of coffee shops and wine bars.
In comparison to the congestion and how built up Melbourne, Sydney and London are, the lifestyle's fantastic.
Where did your passion for theatre originate?
I was very young. I had an older sister who was in theatre and my dad did amateur theatre.
It was certainly something that was encouraged in the house but it was never seen as a viable job.
Go and study something proper was the general suggestion from my parents.
I had done at least a year of what they suggested (a bachelor of accounting) and then I thought it's time for me to do what I love.
A friend of mine had just signed and paid for an application to go to drama school and he said I should just go.
He went to Sydney and I went to the Western Australian Academy of Performing Art (WAAPA) in Perth.
That was kind of when I took it seriously.
Others have described you introverted. What's it like being both an introvert and an actor?
What I love about theatre is I'm absolutely not myself. I'm certainly not introverted on stage.
Off stage I just enjoy my own time and my own company. Maybe that's what being introverted is – I'm not sure.
My personality doesn't suit the attention that comes from acting. For me it's all about the story-telling.
How do you feel about Natalie's recent role as 'Donna' in Mamma Mia! The Musical?
I'm immensely proud of her – it's not easy to do a role of that size and be so available as a mother and wife.
On a more personal level, she had to sacrifice quite a lot as I with toured Les Mis for a number of years.
This role she's doing at the moment is hugely vocally demanding. I was delighted for her to be able to flex her muscles in that way.
Have your children shown any acting talent?
Certainly our daughter Molly (11) is heading down that path.
She's only little but she loves watching it and she loves doing it.
While we're certainly not pushing her, we're encouraging her – it's obviously her passion.
The desire's a pretty obvious thing as a parent.
She just has to be passionate about it for the right reason – the doing of it, not attention and signing autographs – there's not much longevity loving it just for that.
Rafferty (7) has shown no passion for it but we're perfectly OK with that.
What first attracted you to Natalie when you met at age 19 at WAAPA?
For anyone who meets her, it's unmistakable how warm-hearted and generous she is. It's the heart she has.
All my good friends put up with me just to be around Nat.
We started dating just around the time she started playing Sophie (in a 2001 Australian stage production of Mamma Mia!).
Before then, we were studying so hard I don't think we would have survived if we dated for those few years.
What's your career highlight?
It's hard to go past Les Mis as a highlight because it's such a monster to play.
You pinch yourself because of the history attached to that show – it's been going on the West End for 33 years. To have a part in that is amazing.
We're not in control of the work that comes our way, that's in the control of who pulls the purse strings.
A lot of the time you're just riding the waves – unless you make your peace with that early in your career you don't last.
How far back does your connection with Les Miserables stretch?
Nat and I were both in the ensemble in an Australian tour in 1998. It was our first ever professional job. We hadn't even finished drama school!
What do you think of Hugh Jackman's portrayal of Jean Valjean?
Hugh's great – we had a chat about the massive scope of the character. I thought he did a fantastic job. He probably enjoyed the fact that he didn't have to do it eight times a week. But filming it wouldn't have been a picnic either.
How does performing in Geelong compare to the West End?
Geography doesn't really matter. You can do amazing work in a shed somewhere in Colac and see terrible work in the West End.
The standard of work we're doing here is equally as good as the West End. We just don't have the population that they do who can support it.
Personally I'd like to see them start producing more plays here. There's an opportunity to widen the talent available.
Do you have some time off with your wife playing a major role?
Not really. Last night I just finished three months on An Ideal Husband for the Melbourne Theatre Company.
A month before that I did Oklahoma in Melbourne.
It just affords me chance not to take on a long-running project and support her – so that's nice. It's just a matter of making sure our focus is on the children and making sure they're doing alright.