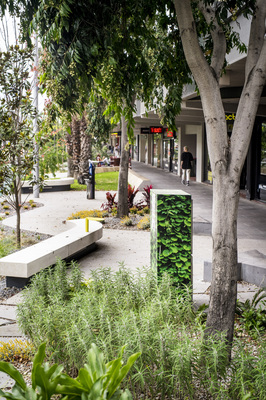 One of Geelong's oldest main streets is being transformed into a vibrant shopping and dining precinct with the creation of a botanic walk.
With its rich mix of native, indigenous and exotic plantings along with shady seating options, Malop Street is fast becoming a great place to eat, sit, relax and watch the world go by – all thanks to the new Green Spine project.
Informed by community feedback, the Green Spine will deliver a linear botanic park to connect Johnstone Park to Eastern Park. This $8 million project has been funded by the Victorian Government and the City of Greater Geelong, and is due for completion mid-year.
The north-side works, now underway, follow the successful delivery of the Green Spine's south side, with its spectacular eight metre-wide botanic walk and separated bike path. The clever design includes an extensive bank of subterranean growing cells ensuring that the newly planted trees have room to extend their roots without affecting footpaths and road surfaces.
Malop Street was first sealed with bitumen in 1944, and since then this busy thoroughfare has been patched and resurfaced on an ad hoc basis many times. This has 'lifted' the road surface up to 60cm in some areas. All this now needs to be removed so the road can be rebuilt properly for future needs.
Whilst these works are underway visitors are encouraged to keep using Malop Street as all businesses are open and well-served with pedestrian access, including a crossing between Westfield and Market Square.