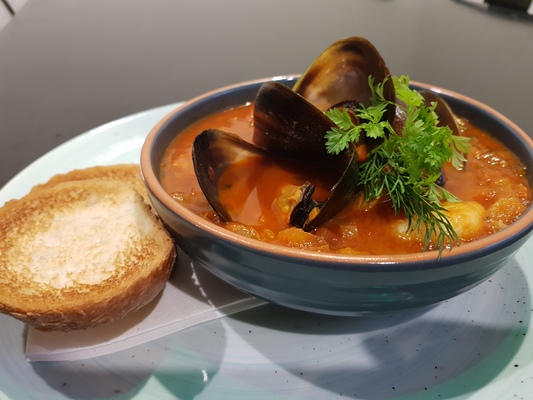 Seafood Bouillabaisse
2 onions, finely diced.
3 carrots, finely diced.
1/2 head celery, finely diced.
2 leeks, finely diced.
1 tbsp chilli, finely sliced.
1 tbsp garlic, finely crushed.
5 potatoes, finely diced.
1g saffron threads.
1 tspn fennel seeds.
2 bay leaves.
1 tspn paprika.
Salt and pepper to taste.
2 litres fish stock.
1 ltr Napoli (whole crushed tomatoes).
Olive oil.
1. In a large pot heat up 1/2 cup oil.
2. Add garlic, chillies, paprika, fennel seeds, saffron into pot. Cook until golden. Add onion and celery, cook for two minutes. Add carrot, leek and potato. Cook for a further five minutes. Add fish stock and Napoli with bay leaves and simmer on low heat until vegetables are soft.
3. When serving, add desired seafood to pot with above mix and cook until seafood is cooked through. Serve with fresh herbs and crusty bread.