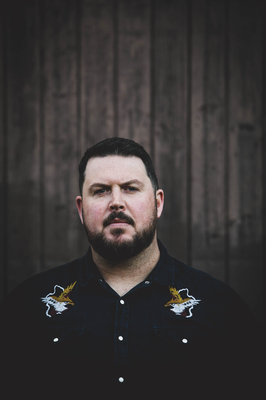 By Luke Voogt
Hamlyn Heights singer-songwriter Nathan Seeckts remembers his relief and pride when he listened to his debut album for the first time last October.
He sat in the studio with wife Sharon and a glass of wine as he played back the result of several months of recording.
"It was like I had been holding my breath for a year and I could just exhale," the 39-year-old says.
"It's music I would head out and listen to – and I've got high standards."
Three months later, Nathan recalls playing at a hot and humid Tamworth Country Music Festival for his first time.
"I did eight shows over four days," he tells Geelong Coast Magazine from a beach at Old Bar, in northern NSW.
"I reckon I sweated out my body weight in sweat. The heat was unbearable."
The primary school teacher ventured up north after encouragement from friend and fellow musician Andrew Swift, who was nominated for four Golden Guitars.
"I always thought I perhaps wasn't country enough for Tamworth," he explained.
"At Queenscliff Music Festival, they tagged me as 'countryish', so I'm sticking with that."
He soon discovered his fusion of Americana, folk and blues with his powerful, gravelly voice fit under the Tamworth umbrella.
But he also learnt playing three shows in one day after "sleeping in the back of a Tarago" was "something I probably wouldn't do again".
He played songs from debut album, The Heart Of The City, including the lament Old Blood.
"People really seem to connect with them," he says.
"If I'm going to put something into a song I want to believe it, or else nobody is going to."
Old Blood tells of a small town musician who let glimmers of fame go to his head and finds himself without the friends of his youth.
Nathan's days as lead singer in punk-rock bands inspired the cautionary tale, but luckily he "learnt a lesson in being humble" early on, he says.
"What happens when you don't remain humble – you brag and boast – nobody is going to want to hang around with that person."
His music career began growing up in Chilwell, when his parents were "smart enough" to buy him a guitar and lessons rather than a drum kit or saxophone.
"I wanted to take up drums and they said, 'not in this house'," he says.
He spent his early adult years singing in bands, working in warehouses, "doing the backpacker thing around Europe and working out what I wanted to do with my life", he says.
But in 2010 he started performing solo acoustic shows, where his voice "came into its own", he says.
He has since released three Eps, taught primary school for 11 years and is happily married, with a Labrador and two cats.
He and Sharon went on honeymoon in the US after marrying in 2016.
"Because we're both teachers we were able to take long service leave," he says.
The couple hired a car and drove to Texas, where Nathan scored dozens of gigs at bars.
"(Sharon) was more than happy for us to do that together which was lovely," he says.
"The handy thing is with an Australian accent in the south is you're novelty – and they can't do enough to help you."
Nathan teaches grade 5 and 6 at Manifold Heights Primary School and spends school holidays recording or touring.
"It's a really nice balance," he says.
"There's always music in the classroom, as much as I can fit in. It's part of my DNA I guess."
He also volunteers for 94.7 The Pulse presenting Americana-based radio program Last Night In Town, to give back to the "very talented artists" who have supported him.
He hopes to one day make a living from music alone.
"Every couple of days I'll try to write something down," he says.
He remembers watching kids on their BMXs tearing it up and having the time of their life at Coffs Harbour the day before this interview.
"It reminded me a bit of my childhood. There's a song in there somewhere."