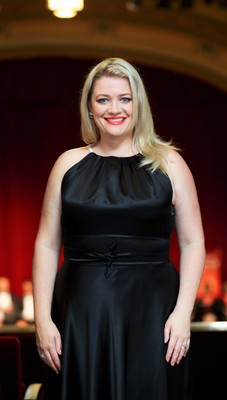 WORDS: LUKE VOOGT
From playing a heroine not seen in Melbourne for years, to singing for 88,000-plus at the MCG, Lee Abrahamsen is Geelong's opera rising star.
Lee starred in February as the lead performer in the first Melbourne production of Tristan and Isolde in 17 years.
"Isolde is a gift of a role," she says. "So many wonderful Idols of mine have achieved greatness playing her."
But it took a while to build the confidence to belt out classic operas on stage, admits Lee, who started singing at age 16.
"I was such a shy girl, my parents and teachers encouraged me to join the choir to build my confidence," she says.
"The girls kept teasing me about how my voice didn't blend.
"My teacher took me aside and said I should do some vocal lessons as my voice was obviously more suited to being a soloist."
Lee has since proven her vocal talents, performing in major operas, singing across the world and winning a "rare" standing ovation at St Martin in the Fields in London.
"I can't think of anything else I would rather do," she says.
She has had little difficulty getting into character for roles such as Isolde, despite many of the operas being more than a century old.
"Obviously I am not an Irish princess who has been abducted by the English King!" she says.
"But more often than not, the operas are about love, death, family, illness, infidelity and so on. These are all subject matters we deal with in the 21st century."
Although she says there is one major difference – the fashion.
"I don't like wearing corsets!"
Lee recently moved back to her childhood home of Geelong, buying a house in Newtown with her young family and teaching music at schools across the city.
"I have so many fond memories from my youth of spending days on the beautiful Eastern Beach, swimming in Torquay, riding my horse at Mt Duneed."
She was thrilled to sing the National Anthem for the Ashes test at the MCG on Boxing Day.
"Apparently Hugh Jackman loved my high note as he was commentating," she says. "If you've got it, flaunt it!"