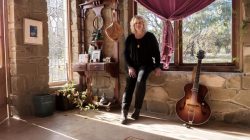 Classically trained and with a bent for the blues. JUSTIN FLYNN tunes into rising Ocean Grove muso Andrea Robertson.
Music has been a part of Andrea Robertson's life since she can remember.
The award-winning Ocean Grove singer and songwriter is about to embark on a tour of regional Victoria and has a series of gigs booked in on weekends from the end of April through May and June, possibly into July.
"I learnt classical piano as a child but music has just always been a huge part of my life and I've been dabbling in songwriting since a very young age," she says.
"Growing up, my mum was the go-to person if you needed a soloist – weddings, funerals et cetera – and music seemed to always be playing on our stereo. TV took second place."
In November last year Andrea was announced one of the dual recipients of the Queenscliff Music Festival (QMF) Emerging Artist Grant. Not only did she receive a substantial sum which will go towards a live recording in Point Lonsdale later this year, she also got to join the stellar line up at the QMF in 2017.
"As an artist, receiving an award such as this, it was also incredibly encouraging to know that that people in the industry believe in what I'm doing and want to invest in my future as an artist," she says.
"I feel this is even more significant given that I'm a 'mature' female in the industry, and I'm so thankful for the recognition and opportunity."
Andrea also received the QMF Ross Lipson Award in 2016, which is given to a female in the industry in recognition of their work, particularly amongst young people. She also has a number of songs shortlisted in the ASA National Songwriting Contest in 2016 and 2017.
"I think I always knew I could sing, and I'd find myself singing along to whatever music was playing at the time," Andrea says.
"If I wasn't singing along to the lead vocal I was working out harmonies or backing parts to whatever the lead singer was doing. I remember as a kid not being able to understand how people couldn't hear they were out of tune when they tried to sing along to something."
Andrea says she often uses her music to express herself.
"Music is my work, but it's very much an outlet and my go-to place when I need to vent or express myself, be it a positive or negative emotion, and it's helped me get through some pretty rough times," she says.
I love creating music and sharing it with others, yet I'm not an extrovert, so I'm not one of these performers who steps into another persona whilst on stage. What you get is what you see basically, and I find I can't be any other way, whether I'm performing or not. It's got to be natural for me."
Andrea doesn't like to pigeon-hole her music into a specific genre.
"Ah, the dreaded question! I guess the best way to describe my music – blues-influenced folk, rock, alt-country … it really is incredibly hard to peg yourself as an artist because I just write and play what comes to me," she says.
"It's not strictly blues, but has blues influences. It's not strictly folk, but definitely has folk elements. And it can't be classed as country (mainstream) but at times, there is definitely a country feel to some of my songs. I have many and varied influences and this is reflected in my songwriting."