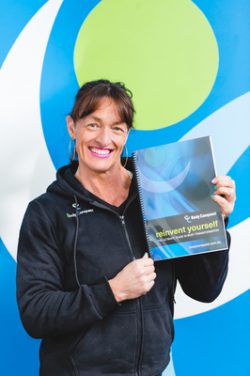 Body Conquest director and personal trainer Ingrid Barclay has launched Reinvent Yourself as the ultimate manual for body transformation.
"It's about next generation fat-burning and muscle-building nutrition programs, structured by the numbers but also more flexible than any conventional diet," Ingrid explains.
"Whether you're a disciplined athlete or a stay-at-home mum, you can't intuitively eat properly from day one without educating yourself about food and developing a meal plan."
Reinvent Yourself is Ingrid's overhaul of her fat-loss course to cover additional elements on "the mental side of things", Ingrid says.
"My fat-loss course was based not on counting calories but clean healthy foods, but we know now that you need to be more than calorie aware.
"The difference in this course compared to the previous one is about making proper eating a habit and behavioural change."
Ingrid describes Reinvent Yourself as about conquering the "learning process" to make the right eating decisions a habit.
"Ninety per cent of clients come to me thinking they know about food but it's clear to me that they don't. What people think is healthy and what will help them achive their goals is very different.
"If they don't count, weigh, or measure food. They never go through the learning process that allows them to become unconsciously competent.
"They're always going to be running blind, underestimating their calorie content way more than they think and doing too much guess work".
Ingrid says her clients spend the first three months of her program "tracking their food".
"I really like the quote, 'You can't access what you're not measuring'," she says.
Ingrid also changed her course to eliminate forbidden foods.
"The key to enjoying your favourite foods appropriately is based on calorie control and moderation," she observes.
"The program is primarily written for men and women who are overweight and have struggled getting on and off the wagon over the years, never being able to maintain their results.
"The manual is for the busy working person, who doesn't have all day to train workout and prep complicated meals."
Meal frequency was a "huge thing" under Ingrid's previous course, she says.
"I decided that, for me personally, four meals worked fine. In this new program if three or four meals works for an individual we make it work – it's very flexible for the individual."
The course will be a revelation to most followers who have struggled to find the right diet, Ingrid believes.
"People will be surprised how flexible the food sources are," she says.