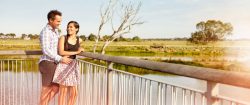 Warralily is a Geelong success story setting a cracking pace for sales and infrastructure delivery to create Armstrong Creek's first new super suburb where residents can live, work and shop locally.
Warralily is the growth area's largest development and consistently rates as the best-selling estate in Geelong — which, in itself, is arguably the fastest growing region in Victoria.
An impressive 50 per cent of the estate has been sold – way beyond expectations – to create a thriving community of 5500 residents occupying over 1900 homes.
Civil, landscaping and infrastructure investment to date has hit the $420 million mark. In all, construction of 58 stages is complete, 10 stages are under construction and the first stage of the $100 million shopping village, anchored by Woolworths and Aldi, will open this spring.
The village has leases signed for a range of complementary specialty outlets including a confirmed BWS bottle shop, Direct Chemist Outlet, nail and beauty salon and an assortment of food outlets including Town and Country Pizza. The centre will also include a medical and dental practice, commercial offices, a gym and more.
The adjacent Armstrong Creek Education Precinct will be completed for term one enrolments in the new year, along with Oxanda Education's private child care, Bluebird Early Education, catering for 126 children up to the age of five.
Estate manager Ben Stewart said Warralily was a runaway hit with homebuyers, especially young families looking for lifestyle, amenities, affordability and ready proximity to the best of coast and urban living.
"We are averaging 43 sales a month over the last four months and have been consistently the highest selling estate in Geelong, with well over 30 per cent market share over the last year," Stewart says.
"We are also working with a fantastic diversity of buyers, as land prices from $166,500 to $247,000 satisfy house and land requirements for most property hunters.
"Construction of the Armstrong Creek Education Precinct and The Village is accelerating growth, with the team on track to sign over 50 contracts for the month of July – once again showing that Warralily is an in-demand blue-chip location."
With the First Home Buyers grant being increased to $20,000 as of 1 July, along with significant stamp duty savings, there is no better time to look at building in Geelong's pre-eminent estate. While many new residents have been locally based, with the advent of the increase in the grant there is now seeing strong inquiry further afield.
The full scale of the community is now evident with last month's opening of Warralily Boulevard from Barwon Heads Road through to the Surf Coast Highway linking the estate's east and west neighbourhoods to the Ring Road, Surf Coast and future community hub on Barwon Heads Road.
All Warralily residents now have car, foot and bike connectivity to the full array of future community services, including neighbourhood shopping, cafes and restaurants, a child and maternal healthcare centre, four schools and sporting facilities including football ovals, soccer fields, netball and tennis courts and bowling greens.