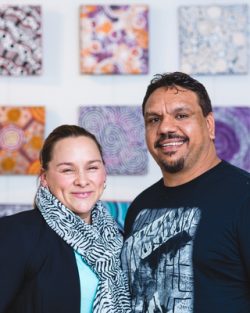 Penangk Aboriginal Art Gallery is a stunning new addition to Geelong's arts scene, specialising in contemporary Aboriginal and Torres Strait Islander works for modern interiors.
With a focus on sharing stories depicted by the artists, the Pakington Street gallery is friendly and relaxed with art ranging from small, affordable works to large investment pieces.
Many works are by well-known and collectible Indigenous artists, others are simply great artworks at fantastic prices.
Owners Naomi and Raymond Walters feel privileged to share their passion for art and culture with the community.
Penangk prides itself on adding to the art-buying experience by ensuring stories and biographies accompany the paintings with certificates of authenticity.
Raymond Walters Japanangka/Penangk is an established artist himself, exhibiting and selling his works nationally and internationally for 15 years.
He comes from the North West of Alice Springs, and hails from a long line of prominent artists from Utopia and the Western Central Desert. Raymond is passionate about art and bridging the cultural divide through art and conversation.
Other featured artists include Kudditji Kngwarreye, Barbara Weir, Margaret Scobie, Tommy Watson, Gloria Petyarre, Jeannie Petyarre, Sarita King, Zita Wallace, Jennie Mills Pwerle, Charmaine Pwerle, and Anna Petyarre, plus many more.
Penangk also stocks a unique range of gifts and jewellery, with lay-bys, framing and delivery services also available.
Penangk Gallery aims to host art workshops for the community, along with evenings for story-sharing and music in the Little Pakington courtyard. Major exhibitions of Indigenous masters, established artists and exciting new talent are planned.
Gallery manager Naomi Walters is available to meet visitors 10am to 4pm Tuesdays to Sundays.