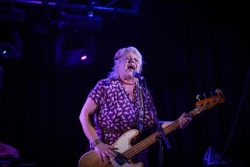 By Luke Voogt
Music is Sweet Felicia's salvation.
"I would be dead without it," she says. "Well, without that, my two fur children and some excellent therapy."
The veteran Geelong songstress has survived sexual assault, financial trouble and a troubled childhood.
"I've been abused until I almost died," she says candidly.
"You feel like you're the victim and it's your fault."
The 59-year-old, her siblings and her World War II veteran father suffered at the hands of her mother as a child.
"There was absolutely no help for that sort of thing when I was growing up in the '70s."
"My mother tried to kill him so many times in front of us. She was so insane he was constantly protecting us from her."
But in her darkest times her music and her two little dogs Bessie and Harlem have kept her going.
"It's basically saved me from degenerating into a drug-addict loser – as what happens to so many who go through that."
Sweet Felicia has always been in love with music. But it became her calling when her brother's band mate invited her to play his bass.
"Once I played it knew it was what I had to do."
For three decades Felicia has travelled the country her "jump swing" blues, while working as a systems analysts, shoe salesperson and everything in between.
Her up-tempo music and smoky voice saw her win the Melbourne Blues Challenge in 2011 and represent Victoria in Memphis the next year, where she made the semi-finals.
"It was absolutely amazing," she says. "It was the first time in my life I had been out of Australia."
But nothing tops playing with the late Blues legend B.B. King in Brisbane during the late '90s.
"He was such a gracious and kind man, and it was an honour to meet him," she says.
Felicia moved to Geelong seven years ago.
"I was working on the (Bellarine) Blues Train and Melbourne just got a bit too expensive to live in," she says.
When she's not playing at Pistol Pete's or a festival gig, she's mentoring Geelong's young blues artists.
"I just want to help them navigate the industry," she says. "It can be very tough out there, especially for women."
She runs song-writing workshops for mental health networks – using music to help others, as it helped her.
"It makes a big difference in their lives – it's basically musical therapy I guess."
Catch Felicia's next at Bluestone Blues Festival in Murgheboluc.