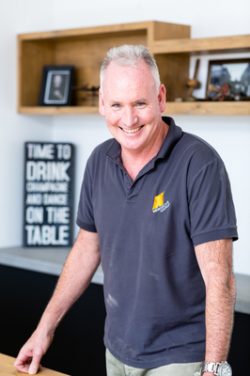 Balmy evenings, a cool sea breeze and a barbecue – if there's one thing Australians love it's relaxing with family and friends.
As outdoor entertaining gets fancier and entertainers upgrade from the good old snag to full-on roasts, so too do alfresco areas.
Now so much more than just a barbeque and an outdoor setting, the alfresco area is an extension of the home.
The outdoor kitchen creates a 'transterior', bringing the outside into the home and the inside out in a seamless integration
They are now a high priority on new-home buyers' and renovators checklists and the key to a great alfresco area is in the planning.
Newgrove owners Sean Blood advises to plan before going out and purchase a barbecue.
"We see too many people rushing out and purchasing an inappropriate barbecue and then find it doesn't suit the area or there are better options for a seamless transition from benchtop to barbecue," Sean said.
"When planning, think about how you will use the space and what's important to you.
"Will you still use your main kitchen for food preparation and then cook outside or do you want to be able to do everything outside? This will determine your choice of appliances, whether you need a sink, is there access plumbed water or natural gas and how much bench space you will need.
Beverage centres, including under-counter bar fridges, bottle cooling and ice storage, can be incorporated into alfresco areas, Sean said.
He advises that alfresco area benchtops and cabinetry must be durable to withstand harsh sunlight and torrential storms.
Sean recommends DuPont Corian as an all-weather material.
"It's a hi-tech solid surface that's perfect for the outdoors. Colours and patterns run through the entire thickness of the material and cannot wear away.
"Corian is easy to clean and maintain and it does not stain. Grease and fat simply wipe away with hot, soapy water."
Corian is available in a range of UV stable colours. Dark colours are not recommended for external applications.
More information about Newgrove and its products is available at newgrovebenchtops.com.au. Newgrove's showroom, featuring an alfresco area display, is open 6.30am to 4.30pm, Monday to Friday.